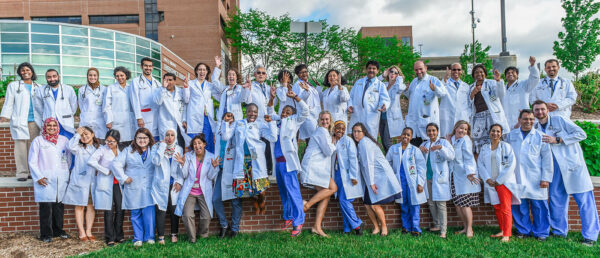 Neha Dayalani
MD
Program:
Pediatrics, Graduating Class of 2021
Originally from:
My parents from India, but I grew up in the Caribbean.
Education:
Medical school: American University of the Caribbean, on St. Maarten
Why did you come to the U.S. – and to Michigan?
I moved here for residency – Hurley was one of my best choices. I stayed in US 2 years prior to this for clinical rotations in medical school.
Why did you choose your specialty?
I love children and cannot see myself doing anything else but helping and being the voice for children in need.
Family
My family all live in St. Maarten, and my brother lives in San Francisco.
When you're not working, what do you do for fun?
Watch TV, take naps, go to the gym.
What do you love about Hurley?
Hurley is a great and diverse program, with amazing staff who all have your best interests at heart.
What inspires you?
Seeing other successful women in medicine.
What was your toughest challenge?
Moving from a small island where I was the big fish in a small sea to a large place where that is no longer the case. I overcame this by realizing you can't be great at everything, so you have to focus on your strengths and be a part of a team to make things work.
What do you miss most about home?
The beaches, my family, especially my fiancé. I keep in touch through WhatsApp and phone calls.
What's your favorite beach?
One of the beaches back home - I have seen none better.
To 5 Favorite things about Flint region
Community spirit and Resources in the community for every need.
Nearby shopping malls, so many great ones. :)
The cute little coffee shops and restaurants that have a very unique flare.
No traffic, ever.
My apartment. It's adorable and very homey.
What surprised you the most about working at Hurley?
Everyone is super nice and accommodating! There is a great work-life balance here.
What are your favorite ways to keep your work-life balance manageable?
I work out and keep in touch with my fiancé daily. Long distance can be tough, but he is great!