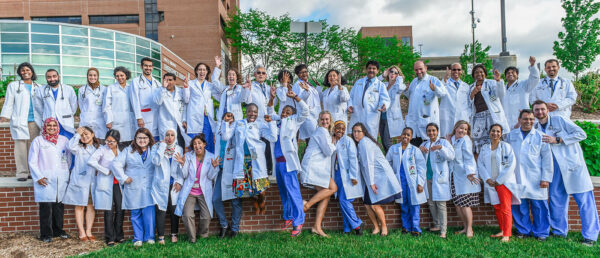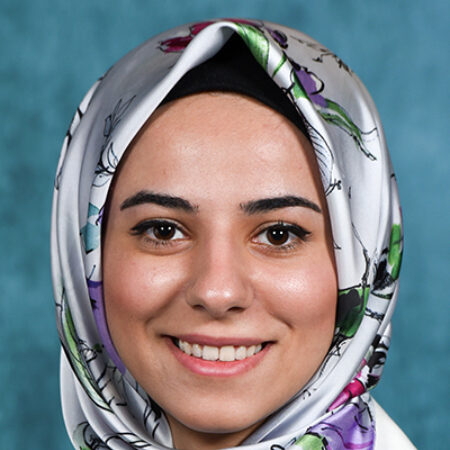 Fatima Hussain
MD
Program:
Pediatrics, Graduating Class of 2020
Originally from:
Iraq
Education:
Medical school: Gulf Medical University, Dubai, United Arab Emirates
Why did you come to the U.S. – and to Michigan?
I came to the States 2 weeks prior to my July 1st residency-start day. Residency in U.S is a dream for every medical student! Why Michigan? I knew I'll have a family at Hurley, not only colleagues. Also, I loved the trees in the fall and the lakes in every city!
Why did you choose your specialty?
I've always dreamed about taking care of kids. I love seeing them healthy and playful. Plus I always get a hug!
Family
My family is a gift from God. They are my all-the-time supporters. I have sisters in Canada, a brother in Hungary, and my parents are in Dubai. Separated by thousands of miles but we are even closer than being in one house. I'm married to the love of my life and my best friend Ahmed. We love to discover new areas together. We visited the most popular areas in Michigan and the States from NYC to CA, and there is more and more to discover!
When you're not working, what do you do for fun?
I love doing different things from drinking tea with my husband and chitchat with him to a road trip to a new place or cycling in Mackinac Island. Also, I make sure to have a nice dinner with my small family of interns at least once a month.
What inspires you?
My Mom (her words, prayers …) and my husband. Also, just being around kids and seeing them smiling again inspire me to work harder.
What was your toughest challenge in achieving your goals - and how did you overcome it?
I faced many challenges until I got here. My first and biggest was the Visa. Other challenges are traveling alone for the first time to a big country for electives/ interviews and being away from my family. The key for all the challenges was patience with determination. On the other hand, I gained many experiences and made many friends. In brief, it's worth it!
What do you miss most about home - and how do you keep in touch with family and friends there?
I miss my parents the most. I also miss my friends and my car! I always talk to my family and friends on WhatsApp and Skype.
What are your future plans?
Away from work, my first plan is buying a lake house in the up north of Michigan!