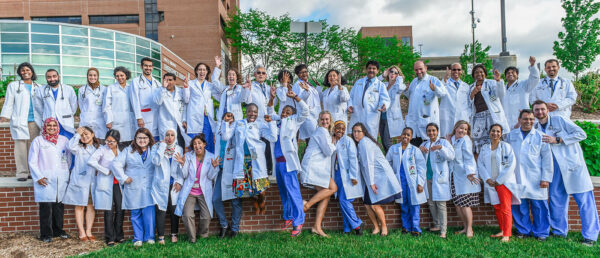 Aisha Khasawneh
MD
Program:
Pediatrics, Graduating Class of 2020
Originally from:
Jordan
Education:
Medical school: University of Jordan School of Medicine, Amman, Jordan I also did two years of general practice, and two years of family medicine residency training at Jordan University hospital.
Why did you come to the U.S. – and to Michigan?
I came to the U.S. for my training.
Why did you choose your specialty?
I had a wonderful mom growing up. She was a strong and loving woman and very fond of kids. She recently retired after being an English teacher in midtown Amman for 18 years. I always loved kids as well and really enjoyed my Pediatric rotations during medical school and previous residency. I knew I wanted to be a Pediatrician and that I wanted to come to the U.S. during my last year of medical school. It was a long and tough road, but I finally made it!
Family
I have one wonderful mom and two amazing, supportive brothers. I live thousands of miles away from them, but technology has been a bliss!
When you're not working, what do you do for fun?
In the summer, I go for a run in the park. In the winter, I go with my friend Korie for ice skating or go to Dearborn for some Arab food. I also like to go out with the other interns, which we do almost every month. We also have frequent social events in the department, and we are generally close. Our seniors are super smart, hard-working and very supportive. I've made real, new, awesome friends here.
What do you love about Michigan and Hurley?
People in Michigan are generally friendly and down to earth. I like the multicultural atmosphere here at Hurley. Our Pediatric program is very strong, and our Children's Hospital is the only one in the area. We see many kids with complicated medical and social issues, and it is truly rewarding to participate in their care. We are also a Level One trauma center, and we see many surgical and trauma cases in the ED and PICU. We get a good blend of supervision and hands-on experiences.
What do you miss most about home?
I miss my best friends back home a lot. I try to get in touch with them at least weekly.
Favorite quote?
"The best and most beautiful things in the world cannot be seen or even touched - they must be felt with the heart." ~Helen Keller
Favorite thing about the region
The outdoors are fascinating in the summer time.
Special talents?
Learning new sports: swimming, kickboxing and ice skating. Hoping to try something new this summer!
What are your favorite ways to keep your work-life balance manageable?
I do my prayers every day. I also run on the treadmill at the Hurley 6W gym area, which is free and very accessible!