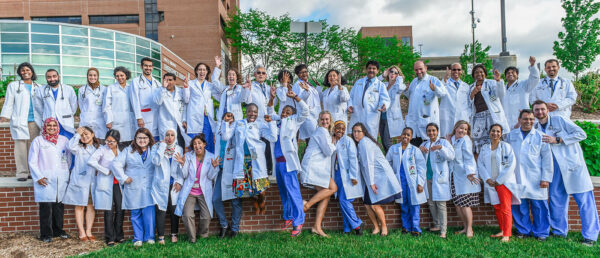 Auriel Mouzon
MD
Program:
Pediatrics, Graduating Class of 2021
Wellness Chief
Originally from:
I was born in Harbor City, Calif., but raised in St. Petersburg, Fla.
Education:
Medical school: American University of the Caribbean School of Medicine in Sint Maarten.
Why did you come to Michigan?
I decided to come to Michigan and to Hurley Medical Center because of the wonderful work that physicians and educators are doing for the children and families in Flint, Mich. I immediately felt the love, passion, and dedication from the people in the Flint community, and I wanted to be a part of that legacy and serve in a positive way. Also, I've never seen snow, so I wanted a different environment from the tropical lifestyle I have become accustomed to all of my life. I have really enjoyed myself here! Michigan has beautiful summers and fall weather.
Why did you choose your specialty?
I always say that I did not choose Pediatrics - it chose me first. I have grown up around a large family with many nieces and nephews who I love dearly. I have a passion for mentoring kids and supporting them to live out their dreams. Children are fighters, they are resilient, and they carry so much hope for the future. Pediatrics is a wonderful field that is always changing and growing. I wanted to be in a field where I continue to grow as a physician and have an opportunity to make a child's life better.
Family?
My parents are living in Florida and I also have family in California. When I am not working in the hospital, I try to visit them often.
When you're not working, what do you do for fun?
When I am not working I am most likely at the movies or at a music concert. I love all things super-hero movies and Marvel movies. Also, I'm a former jazz trombone player, so music is very important to me, and I love attending R&B/Jazz concerts. I also love to travel, outside or within the U.S., and I enjoy playing volleyball. I also like working out in the gym and trying out new restaurants and foods.
What do you love about Hurley?
I love that Hurley is a major academic institution with passionate physicians and educators. Everyone is so friendly, and they are excited to teach the new residents and make us feel at home. Another thing I love about Michigan is that I have many friends here who love the area, and I am excited to explore this great state with them. Finally, I love the patient population at Hurley and the diverse faculty and residents that I work with in the hospital.
What inspires you?
My mom is my greatest inspiration. For most of my life she worked as a single parent while in the medical field, and she always encouraged me to work hard and go after my dreams. I've seen her persevere in school to become a nurse, and I learned how to never give up from seeing her accomplish her dreams. I know that I can do anything I set my mind to because she showed me how.
Special talents/hobbies?
I would like to say I am a great cook! So when I am not busy working, I enjoy cooking new recipes and baking at home.
What are your favorite ways to keep your work-life balance manageable?
My faith helps to keep me balanced. I pray a lot, I attend church, and I like to do community service. Also, I love talking to my parents daily. They help to keep me focused and they let me vent to them. They are my best friends!