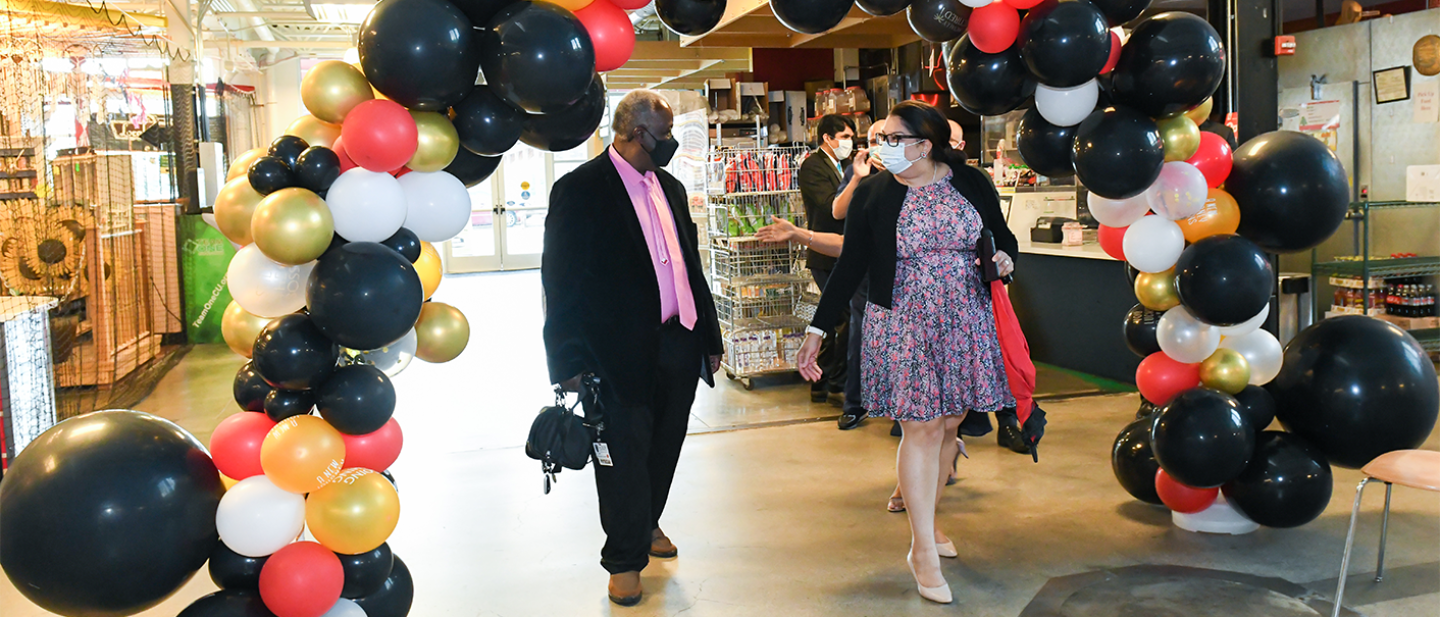 John Hebert III MD had been saying for a few years, "I'm going to retire one of these days – I don't know when, but it's going to happen."
And then, on June 30, 2021, it happened. The obstetrician-gynecologist retired as program director of the Hurley Ob-Gyn Residency Training Program after 23 years in that capacity, though his role as an attending physician and faculty member continues through the end of August 2021. He leaves quite a legacy – one that his colleagues plan to bolster by raising money to name the Hurley Labor & Delivery Unit after him.
Why do they want to do that?
"We want him to know how much he has meant to us, now, in the time he's here to receive the recognition," said Hurley Ob-Gyn core faculty member Atinuke Akinpeloye MD.
Hurley Ob-Gyn Associate Program Director Jay Holmes MD agreed.
"Dr Hebert has provided tremendous strength and stability for both the residency program and the Ob/Gyn Department as a whole. He continues to be a valued mentor for many of his graduates," he said.
His successor as program director, Omari Young MD, said he had learned a lot from working with Hebert as a faculty member, and he felt grateful that he could observe Hebert's leadership, which was a combination of fatherly regard, humor, and a high standard for excellence. Young even included some of Dr Hebert's oft-repeated humorous quotes in the 2021 orientation for the incoming class of residents, yet another way that Dr Hebert's legacy continues:
Dr Hebert's Favorite Sayings
This is a residency, not a democracy.
I was born at night - but not last night.
Your performance was adequate (high praise, considering what the opposite would imply).
Dr Hebert's life journey has included many professional accomplishments, the joys of parenting four children (Nicole, Tiffany, Sean, and Brian) with his wife, Nelda, and lots of international travel with tales to tell about penguins in Australia, mountains in India, fjords in Norway – and a list of more destinations he hopes to experience during retirement.
About the fundraising campaign
While Hebert and Nelda explore more of the world, his colleagues at Hurley will be working to honor him by launching a $250,000 fund-raising campaign to upgrade the Hurley Labor & Delivery Unit and name it after him. As of Aug. 16, $28,205 had been raised. For more information, visit https://www.justgiving.com/campaign/HurleyFoundation-DrHebertCampaign. Messages and contributions large and small are welcome.
Surprise party
To mark this milestone (ACGME pun intended), Dr Hebert's family and friends hosted a surprise retirement party on June 14, 2021, with in-person guests wearing masks (due to the pandemic) and virtual guests joining by Zoom. While the stories and music were live, food and beverages were take-out packages that guests could pick up on their way out. It is notoriously difficult to keep such a big event a secret among so many people. So was Dr Hebert surprised?
"No," he said, "but I was surprised to see so many people and to hear from so many people, lots of friends and family and residents."
See below to view the celebration.
More about his legacy
After Dr Hebert graduated from Hurley Medical Center's Ob-Gyn Residency Program in 1979, he served in the U.S. Army, first as captain, then as major, during which time he also worked as chair of the Ob-Gyn Dept. at the U.S. Army Hospital in Bremerhaven, Germany. That gave him plenty of practice for when he eventually chaired the Hurley Ob-Gyn Dept., a stint that lasted 25 years. He eventually helmed the Ob-Gyn Residency Program and received multiple teaching awards, the medical center's Pinnacle Award, the Rotary Club's Paul Harris Fellow award, and more. Through his community involvement, he has helped to improve the lives of many in the Flint area, as well.
More factoids:
74: The number of Hurley Ob-Gyn residents who have graduated while Dr Hebert was program director
40: Years on staff at Hurley Medical Center as an Ob-Gyn
25: Years as Chair of the Hurley Dept. of Ob-Gyn
23: Years as Program Director of the Hurley Medical Center Ob-Gyn Residency Training Program
23: Years as Associate Professor of Ob-Gyn, Michigan State University College of Human Medicine
23: Years as Ob-Gyn Clerkship Coordinator, Michigan State University College of Human Medicine-Flint Campus
11: Years as Chair of the Hurley Graduate Medical Education Committee
4: Years as Clinical Associate Professor of Ob-Gyn, Michigan State University College of Human Medicine
4: Years as a resident in the Hurley Medical Center Ob-Gyn Residency Training Program
1: Year (1978-79) as Chief resident in the Hurley Medical Center Ob-Gyn Residency Training Program
Dr. Hebert's legacy is sure to continue at Hurley, as many of the program's faculty were trained by him and have absorbed many aspects of his teaching style and work ethic.