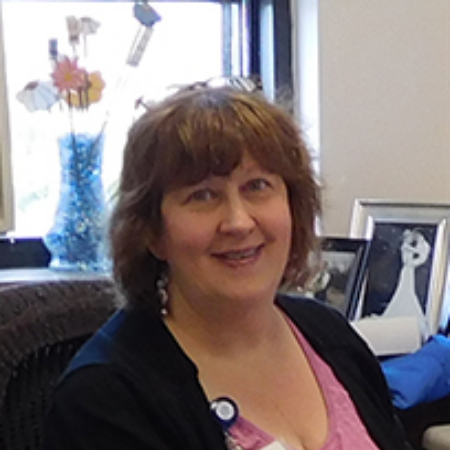 Debi Wright
Program(s)
Graduate Medical Education
Rehabilitation Psychology Post-Doctoral Fellowship
Special Operations Combat Medics
Where are you from originally?
Flushing, Mich. I was born and raised in Michigan.
Educational background
Attended University of Michigan-Flint
What do you like most about working with residents, fellows and other learners?
I've worked at Hurley for more than 45 years, and my familiarity with Hurley can offer calm to our residents who are coming into Hurley, Flint, Michigan, and/or the United States as a resident (both at Hurley and in the State of Michigan) for the first time.
Family
I've been married to Perry since 1985. We have one daughter and one granddaughter.
When you're not working, what do you do for fun?
When I'm not working, I'm blessed to be associated with two great organizations that provide outreach to our local community. I serve as a volunteer on the Board of Directors of the Flushing Christian Outreach Center (a local food pantry, clothes closet and resource center), as well as my church's Mercy Team.
What do you love about Hurley?
I am so proud to be a part of the Hurley family. We are a family that cares, both for our fellow employees and our community. Hurley cares for the young: Hurley is the region's only Children's Hospital, Pediatric Trauma Center (Level II - highest level) & Emergency Room, Pediatric ICU, and Neonatal Intensive Care (Level III - highest level). Hurley is one of four Children's Miracle Network Hospitals in Michigan. Hurley cares for our elderly: Hurley's ER has a fast-track for Seniors, the region's first ACE Unit (Acute Care for the Elderly), as well as being a designated Senior Center of Excellence. We're one of four NICHE (Nurses Improving Care for Health System Elders) Exemplar hospitals in Michigan. Hurley provides basic & critical care to our young and old and every age in between. Hurley is the only designated Level I (the highest level) Trauma Center in the region (not just our county).
What inspires you?
I am blessed when I can help someone.
Favorite book?
My all-time favorite book series would be the Harry Potter series.
Top 3 favorite things about Michigan
Michigan's natural beauty is so diverse: Flat land, hilly areas - some would call small mountains (in the U.P.), large cities, rural areas, beautiful farms
Water: Great Lakes, small lakes, waterfalls, rivers & creeks
Four distinct seasons
Biggest surprise about working at Hurley
In my youth, I never expected to work only at Hurley Medical Center.
Special gifts
I've been blessed with the gift of fundraising. I've used this "gift" to help non-profit organizations near and dear to my heart to fund-raise over the years.