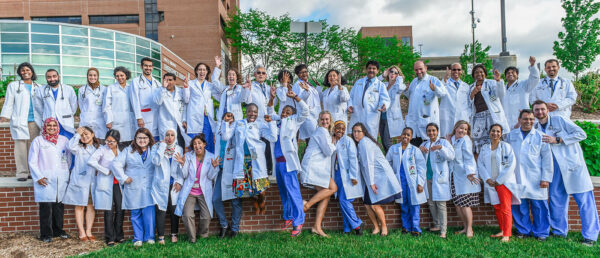 Hadeel Haddad
MD
Program:
Pediatrics, Graduating Class of 2022
Originally from:
Jordan
Education:
I graduated from University Of Sharjah - United Arab Emirates.
Why did you come to the U.S. – and to Michigan?
I came to the states (Michigan) in June 2018 with my husband. We both were pursuing residency. We were lucky to get residency spots and to live in Michigan!
Why did you choose your specialty?
I always knew that I wanted to be a pediatrician; that was never debatable. My young sister has got a chronic condition that has deepened my faith in pediatrics. I see my sister in every kid I treat and help.
Family
I am married to a great man named Zaid. He has been always my main supporter throughout the journey. We were blessed with an adorable little girl, and we named her Lilya. Her name is derived from "Lily," a type of flower! Lilya is a toddler now. Life is so much sweeter with them both.
When you're not working, what do you do for fun?
When I am not working, I spend most of the time with my husband and daughter. We always try to do something fun together; we never get bored.
What do you love about Michigan and Hurley?
In Hurley, I feel at home because we are all one big family and we are here for each other. People in Michigan are so nice and humble.
What do you miss most about home?
I miss my parents and siblings a lot! We always FaceTime.