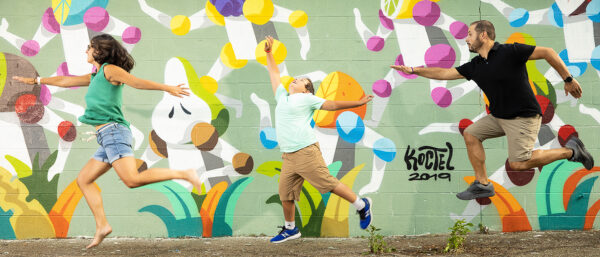 Jeni Godlesky
MLIS
Manager
Hurley Institute for Continuing Medical Education, Flint, MI
Jeni Godlesky MLIS brings professionalism, helpfulness, and high levels of expertise to the Hurley Medical Library, and residents and faculty alike appreciate her educational and research services. She also loves Flint and the Genesee County area and can share a lot about fun things to do in the area. The video shows one of her going "Over the Edge," in downtown Flint in August 2021.
Education
Master's Degree: Library and Information Science, with a graduate certificate in Archival Administration, Wayne State University, Detroit, MI.
Bachelor's Degree, History: University of Michigan-Flint, Flint, MI.
Where are you from originally?
Linden, MI
About living in the Flint area
I have lived in Genesee County most of my life. With the exception of the two years I was in grad school, when I lived in metro Detroit, the Flint area has been home. Flint is a relatively small city, but everything that I need is available here. For those times when I want to adventure outside of Flint, Lansing/East Lansing (Go, Green!) and Detroit are about an hour away. Grand Rapids is close, and getting to Northern Michigan is very easy. We have a wonderful airport that is very easy to navigate and in just about every direction you turn, you'll find a lake. There have been a few periods in my life where I have thought about leaving this area, but I've just never been able to leave because Flint is home, and a wonderful place to live.
What do you like most about your job?
Our residents, fellows and learners are very diverse. Working with people who come from all over the world is such a privilege. I have learned so much about so many different cultures, religions and traditions from years of conversations with learners at Hurley. This privilege is one that I feel so lucky to have.
Family
Nick (husband), Blair (stepson), Howie (cat), Frankie (cat), Larry (cat), Lewis (cat)
When you're not working, what do you do for fun?
When I'm not working, you will find me outside! Especially in the spring, summer and fall. I am an avid runner, having raced just about every distance from the mile to the marathon! My favorite distances to race are the 10-mile and 1/2 marathon (13.1 miles). In the summer, I am a participant in the Crim Adult Training Program. I also serve on the Community School Garden Committee and the Race Committee with the Crim Foundation. I am a cyclist, kayaker and runyaker (running and kayaking) too! When people hear that I live in Flint and that I kayak, quite often the follow up question is, "Where do you kayak around Flint?" My answer: "The Flint River, of course!" Throw out everything you've heard about our water, jump in a boat and paddle! If you want to see bald eagles, turtles, fish, cranes and even fox, you can see them just down the road from Hurley, on and along the river. My husband and I enjoying cycling on the Flint River and Genesee Valley Trails. We also enjoy riding in Detroit and Frankenmuth, as well as Northern Michigan. I also love to garden. Our urban home has a backyard just big enough for me to grow tomatoes, herbs, peppers, flowers, hops, and more!
Inspiration
Kindness inspires me.
Favorites
Favorite Book? I don't have one. Books that I have read recently and really enjoyed are:

The Professor and the Madman by Simon Winchester
Sure, I'll be Your Black Friend by Ben Phillippe
You Can't be Serious by Kal Penn
Strangers to Ourselves by Rachel Aviv
Finding Latinx by Paola Ramos
Friends, Lovers and the Big Terrible Thing by Matthew Perry
Once I Was You by Maria Hinojosa
Spare by Prince Harry The Duke of Sussex
Good for a Girl: A Woman Running in Man's World by Lauren Fleshman
Currently I'm reading: The Escape Artist by Jonathan Freedland

Favorite Music: Flint Symphony Orchestra, Detroit Symphony Orchestra,
Favorite Restaurant: Redwood Steakhouse, Soggy Bottom & Churchill's.
Favorite things about Flint
The Crim Festival of Races
Flint Public Art Project: This group has arranged for over 150 murals, by artists from Flint and around the world, to be painted around our city. We even have one at Hurley!
Flint Farmers Market
Flint Cultural Center: Please visit the brand-new Flint Public Library and Sloan Museum of Discovery!
Capitol Theatre
Jazz on Wheels (Spring-Fall, every Friday evening) Free jazz concerts at the old Flint Farmers Market.
The people. I am so lucky to live and work in a community with such wonderful people!
Biggest surprise about Flint and mid-Michigan
These things may surprise you, but don't surprise me, about Flint & mid-Michigan:
People are nice. Really, really nice.
Our community is full of really active people! Flint is full of runners, cyclists and paddlers!
Gardening is really common in Flint. Quite a few people have taken vacant land around the city and turned it into life.
Lakes are EVERYWHERE!
Favorite ways to keep work-life balance manageable
In the warm weather months, taking care of my garden is my meditation. I get up before sunrise to garden every day. This activity helps me to have quiet and calm moments before coming into work. I run and cycle year-round as well. Thankfully, I'm able to move both activities indoors once the weather turns cold. I also enjoy reality TV and watching Friends.
Photo at top of page: Jeni Godlesky and family in front of a mural by Koctel (of Madrid, Spain) in Flint, Mich. (Photo courtesy of Mike Naddeo)