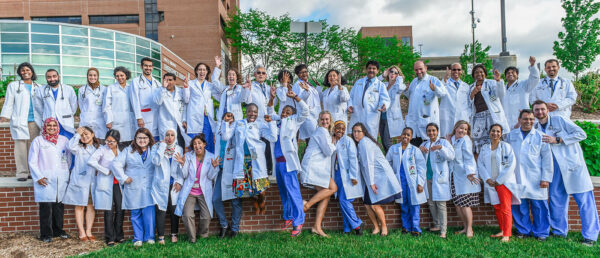 Tiffany Binno
MD
Program:
Pediatrics, Graduating Class of 2023
Originally from:
Sterling Heights, Mich.
Education:
Medical school: Michigan State University College of Human Medicine, East Lansing, Mich.
Why did you stay in Michigan?
Michigan is my home. I wanted to stay in Michigan to be close to friends and family. I have lived in many different cities throughout Michigan for school. I was excited to start my residency journey in a city I have not yet lived before, while still being close to my hometown.
Why did you choose your specialty?
Pediatrics was a childhood dream of mine. I have always enjoyed and appreciated preventative medicine, and I love that this field allows me to have the greatest impact on the future of my patient's lives.

When you're not working, what do you do for fun?
I love to bake in my free time! I have baked anything from cookies to soufflés to baklava, but I'll bake just about anything for friends and family.
What do you love about Michigan and Hurley?
I love the people I have met at Hurley. Even in a time where everyone is wearing masks, you can still see smiles on everyone's faces at work. I have also had a special interest in working with underserved populations in medicine. Flint has a very diverse and underserved community. I also love Flint's location. It's a short drive away from Detroit, Ann Arbor, and Lansing. And a day trip to great vacation destinations like Traverse City and Mackinac Island.
What inspires you?
Children inspire me every day. Perhaps this another reason why I chose a career in Pediatrics. Every conversation I have with a child, I learn something new and discover a new way to look at the world. I will always find inspiration in every child I meet.
What do you miss most about home?
I miss spending time with friends and family, which has become more difficult in the current pandemic. Luckily, I only live a short drive from my hometown, so I am able to visit on weekends off.
Favorite cuisine?
One of my favorite cuisines is Middle Eastern. I may be bias, but I would argue that Detroit has some of the best Middle Eastern food in the country, and it's a short drive away for a great dinner.

Special talents?
My special talent is cake-decorating. I have made many cakes, from birthday cakes to engagement cakes, in more traditional styles and even some fun cakes such as a Titanic-shaped cake.